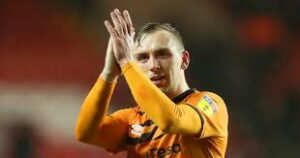 Jarrod Bowen – despite widespread reports to the contrary – has still not arrived in London to conclude a move to West Ham.
And the club have admitted that whilst they have been told – and hope – that he is on a train to the capital, they have no firm assurance that's the case.
The club has been dealing with the player's agent who is looking for his own fee but admit that, whist Bowen is believed to have completed his medical without problems at Hull his whereabouts early on Friday evening remain a mystery to them.
We were told by a senior source on e mail: "We really don't know. We hope he is on a train but we don't know!"
However, Sky Sports  journalist Kaveh Solhelko is reporting on Sky Sports News that he has been told by a person involved in the deal that the player has completed his medical in Hull and that he is on his way to the London Stadium to meet David Moyes.