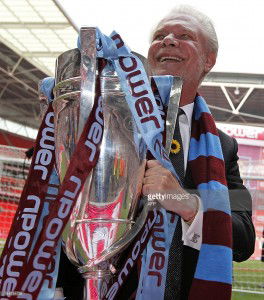 A football journalist named Michael Cox has written an  ESPN  blog in Australia explaining how the Premier League would look were a knockout competition?
He asks: 'What if the Premier League was played like the World Cup?
To demonstrate the random effect of tournament football, he mocks up a knockout tournament featuring this season's current top 16 Premier League sides, replicating the classic structure of World Cup tournament of four groups of four, followed by a knockout stage.
He puts West Ham in Group B  together with Spurs, West Brom and Southampton
GROUP B results
Spurs: 7 points | West Ham: 4 | West Brom: 3 | Saints: 1
Southampton 0-2 Tottenham
West Ham 1-1 West Brom
West Brom 1-1 Tottenham
West Ham 2-1 Southampton
West Brom 0-0 Southampton
Tottenham 4-1 West Ham
West Ham come second in the group and are drawn against Arsenal in the quarter finals
Quarterfinals
Arsenal 0-2 West Ham
Semifinals
Manchester City 1-2 West Ham
Final
Liverpool 0-3 West Ham
So there you go, West Ham are crowned Championships of the Premier League if it was played as a knock out tournament. What makes this article even more remarkable is the journalist is not a bias West Ham fan. He supports non league Kingstonian FC.
You can read Michael's full article here