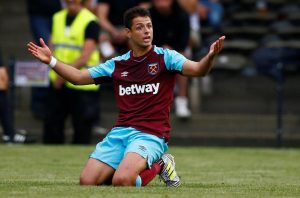 Chicharito can't wait for tomorrow afternoon and Manchester City declaring: "We have a lot of quality and a lot of different types of players and ways of playing, so it's easy and we're going to have a very good season, I hope.
He enjoyed his first appearance in a Hammers shirt against Altona 93 adding: "I am now with my new team and we had a good game against a good team. We drew 3-3 and I played for 20 minutes, I feel very good and hopefully I can get better with each game."
"When the games go on, we are going to feel better with each other after each game. We will build our chemistry like a team and hopefully we can get the proper results in the Premier League."
And of the game against City he told whufc.com : "It's a very good match for us to see where we are and what we need to work on in the next week before we face Manchester United .
"It's going to be a very good match and we're very happy to have the opportunity to be involved in a match against one of the best teams in the world. We're very glad and very motivated to head up there to make a good performance and to try to get a result."