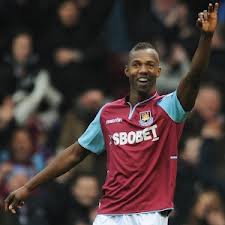 Thrilled Modibo Maiga has turned around  a dismal run of form in terrific style and produced a second half performance to rank alongside his best since arriving at Upton Park on Saturday.
The Mali scored one and then used his prodigious leap to allow Kevin Nolan to fire the Hammers into the lead and not unnaturally took enormous satisfaction from his contribution.

He said: "I'm really happy, really happy. Though I'm not that used to playing in this system, I've dealt with it and I'm pleased to have scored. It's reward for me and for my work and I hope it's going to continue, God willing.
"The keeper has saved the first one but the second one has gone in and honestly I'm really happy. I thank God but I thank the supporters a lot too! I thank them a great deal because honestly they continue to back and support me. That feels great and I'm very grateful."

Maiga remains confident that there are good times ahead declaring: "As I always say, the only solution is to work hard. Hard work and then, ultimately, we'll see how it goes and, of course, we hope for the right result.
"But I think overall, there's not much wrong, perhaps a slight lacking in confidence. We'll carry on working hard and I believe it's just the small things that are missing right now, but we'll be OK."