David Moyes enjoyed his afternoon in the last pre-season game of the season and declared: "I'm not getting carried away, but I actually think we're playing quite well."
That was something of an understatement in reality because the Irons really bossed a very good Champions  League qualified team, playing some very decent stuff along the way.
The visitor managed just a couple of serious shots which both went wide whilst – with Said Benrahma causing all sort of problems – the Hammers gave the watching fans  much hope for next Saturday at St James. Park.
And with the crowd singing his name it was a great afternoon for the boss who was delighted to see around 25,000 fans back in the stadium.
The one possible surprise in the starting line-up maybe was Yarmolenko for Bowen but the boss sees players on the training ground so it best to go with his judgement although the former Hull man was great when he arrived in the second half.
Speaking afterwards the manager said: " We stuck at it and at times they had a lot of rotation and if you watch Italian football that's the way they go about it, although they're a little bit different to other Italian teams with their high energy and big press. We knew about it and did our best to deal with it.
At the start, it took us a wee while to get going, but I thought we did well in the game.
You know, we'd had one or two opportunities and they had a couple of opportunities as well.
I thought it was a good game and I really enjoyed it and I hope the supporters did as well because it was great to have them all back.
We had 25 or 26,000 here, maybe more, and it was great because so many of them were young ones.
For me, at West Ham, what's great for me is that all the young supporters are here. You see so many kids in our shirt, which is great to see.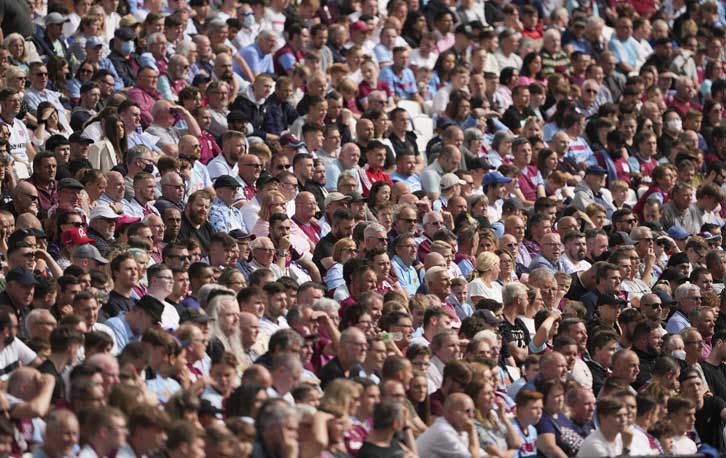 "I'm not getting carried away, but I actually think we're playing quite well . We have got bits we need to tidy up on, like getting the international boys back to play their first bit of football, so I hope they can pick up it very quickly. It looked today like they're all pretty much there. We were a bit slow on the ball a couple of times but, overall, it was very good."