Manuel Pellegrini lifted his first trophy as a Hammers boss – humble though the Betway Cup may be – and was more than happy with his team's performance.
He told www.whufc.com after the game: "I was very happy with our performance. It was better if you compare that with the last game we played before we came to Austria [against Ipswich Town].
"We drew 1-1 but I think we always had good build-up, recovered the ball well and pressed well and this is a Mainz team who try to have possession and we had more possession than them, so in a tactical way we improved a lot compared with the last game.
"We had a lot more options than they had and Adrian really didn't have too much work during the game, so in the way that we improved from the friendly games, it's good for the team."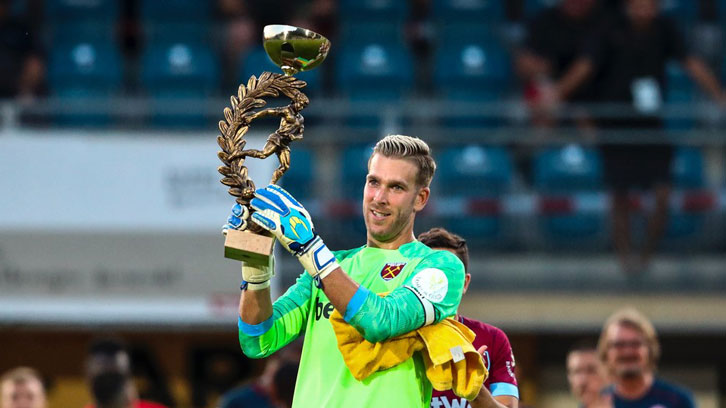 With one more game ahead of the Liverpool game on August 12 the boss knows there much more required and said: "We need to keep improving. We have ten days more work before we start the Premier League and there are a lot of players who are not 100 per cent.
"Tonight we played without Javier Hernandez, without Felipe Anderson, without Andriy Yarmolenko, without Cresswell, but these players are working more every day and they will be nearer to their normal performance. We need to work very hard these ten days.
"We will try, if we don't take any risks, Felipe can play some minutes in the game we are going to play on Friday, but maybe it will be more difficult for Andriy to play.
"We recovered Antonio and Wilshere and they played minutes in every game so I think, for the moment, the pre-season is exactly the way we want it to be."
The manager admitted there could be further movement, both in and out of London Stadium, over the next ten days.
"It depends which players will not continue in the club and also on the options we have to replace them, so the sporting director and myself as manager have to work very hard to be absolutely sure that we have the squad that we need for the Premier League.
"As you know, it's always so tight and so difficult so we want to make sure we don't make a mistake in the makeup of the squad."