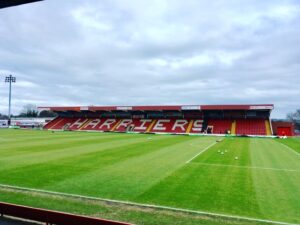 Kidderminster boss Russell Penn could barely believe his own team talk ahead of the match against us at lunchtime today.
The game will be shown on BBC at 12.30 pm as the National League north minnows attempt their latest giant killing attempt.
But as he prepared for the game Penn admits that he was having trouble believing his own words to the squad and that they were all in fits of laughter as he went through things.
It's very unlikely that Harriers will be meeting a weaker Hammers team than usual with David Moyes making it clear that he is treating the game pretty seriously.
As a result Penn was explaining how his team could perhaps try to cope with some of the players they swill be facing from a club currently flying high in the premier League.
That wasn't the easiest of tasks and the manager of harriers explained that he and the lads were dissolving into laughter.
Speaking live on Friday Night Social on BBC Radio 5 Live, Penn shared he said: "It's very hard to go away from what we're doing
"We have a presentation of analytics and that was a bit weird, talking about Declan Rice and Tomas Soucek.
"We write down their weaknesses and that was crazy, trying to say that Declan Rice doesn't like to be turned and run at, and I'm thinking 'Am I really saying this?'
"We were just laughing."