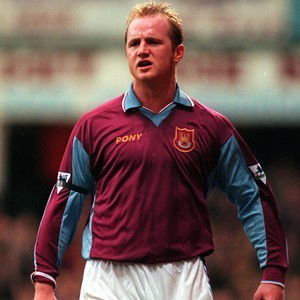 John Hartson – a team mate of Slaven Bilic's back in the nineties- does not believe there is any serious problem between the manager and his West Ham squad but insists: "They will waiting for him to come up with new ideas."
Harts has been following our season of misfortune and told ClaretandHugh exclusively: "Nobody will know better than Slaven that if this doesn't change he will be looking down the barrel. I think it will.
"I was a young player from Arsenal when I arrived and had many a tussle with him on the training ground but off the pitch he is intelligent, a gentlemen and not a man I have ever seen lose his temper. His personality won't be a problem."
And he added:"I feel for him of course because clearly Andy Carroll – who looked to be right back towards his best in pre season – would have been central to all his plans and then there's a big miss in Aaron Cresswell.
"But Slav has to forget that and start winning. We can analyse this, that and the other; the training ground routines, tactics, players and look for answers everywhere.
" But look, the bottom line is it's all about winning. That's the end of that and he will know that. He will know he's in trouble and could be as few as three games away from the sack. That's enough to focus anyone's mind."
He added: "The players are very often weak people an they will feed off the manager. So Slav's weekend interview where he looked so down won't have helped anything.
"He needs to get into the dressing room and on to the training ground with some real positive stuff and fresh ideas to lift and inspire the squad.
"I didn't like the look of Mark Noble's body language and interview either. Slav will know and will have noticed it too and know that all of this comes back on him in the end."
Harts drew on his experience under Martin O'Neill at Celtic to reall: "He was a man who achieved so much but he said to me one day: "I'm only three games away from the fans saying I should be sacked.
"Slaven is the nicest man in the world and I can't believe there's anyone who doesn't want him to succeed but he must start winning – simple as that.
However, he can't legislate or the sort of handball we saw from Arthur Masuaku or some of the defending that been occurring.  He has to sort it out as far as he can but there is a weakness in midfield and no real focal point up front.
"Those are manager problems and we can forget all the conspiracy theories. It can only be put right on the training pitch and I believe this is a very talented squad and hope and pray Sav can find the answers.
"This is not the time to panic – he needs to get some players back – and he needs a bit more time but he will understand the reality of his position. "