An agent connected with Mondial Sports Management who represents Dimitri Payet tweeted out that Payet had signed for West Ham before quickly deleting it and claiming his twitter account had been hacked.
Muzzi Ozcan teased West Ham fans earlier in the evening by saying "Announcement will be made once things get in to some sort of agreement  will keep you posted ! I expect it to be announced by next week"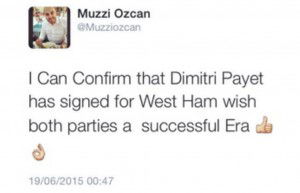 Later he announced breaking news that "I can confirm that Dimitri Payet has signed for West Ham. Wish both parties a successful era" just after midnight but Muzzi quickly deleted the post and said "My account has been hacked and certain messages were wrote !! I will update you tomorrow morning !! I do Apologise for this issue !"
A few minutes later he added "Dear West Ham United Fans I will update you tomorrow morning ."
Speculation on social suggested Muzzi quickly deleted the signing news after getting in trouble for releasing the news early.