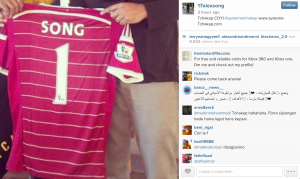 There was much speculation when Alex Song deleted all West Ham related posts from his Instagram account ahead of him being dropped to the bench against Chelsea last week about his future.
There were rumours he had a big fall out with Sam after he learned he was to dropped after a poor run of form.
And it was also doing the rounds that the club were not keen to offer him a permanent deal in the summer with one report claiming he was asking for as much as £100,000 per week to stay.
Whatever the reason, the Barcelona on loan midfielder seems to have found his love for West Ham again by posting a photo of his West Ham shirt on Instagram today to his 635,000 followers. However he is not thought to have travelled with the first team to Dubai for warm weather training.