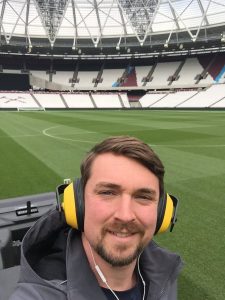 The head groundsman of the London Stadium is quitting the London Stadium just after the first home game of West Ham's season he has confirmed this evening.
Posting on social media Greg Bolton announced this evening: "Just to confirm, I will be leaving my role as Head Groundsman at London Stadium mid-September. Also, like to confirm it was 100% my decision."
Greg spent twelve years at Reading FC after joining the grounds staff from school, he worked his way up to head groundsman before joining Fulham in 2014.  He was appointed Head Groundsman of the London Stadium in March last year and leaves after just 18 months in post.
The £1m Desso Grassmaster pitch has been covered up over for a run of three music concerts in June with many of the 80,000 strong capacity standing on it and heavy concert equipment built on top of it.
The pitch will soon be uncovered and converted to Athletics mode for the Anniversary Games, World Paralympic Games followed by the 2017 World Athletics Championships in August.
The pitch must be ready for football mode by 9th September for West Ham's first home game against Huddersfield.