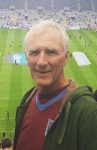 By CandH blogger Allen Cummings
Apparently, according to Saturday's Match of the Day commentator, the last time West Ham were on a similar winless run, Slaven Bilic was sacked.
That was before the game and following the resultant 3-0 defeat, the calls have grown ever louder for Manuel Pellegrini to suffer the same fate. Should it happen? Could it happen? Only the two Davids know the real answer to that one, while the rest of us have to endure the constant, ill-informed speculation.
The one certain thing in all this is that our love-hate relationship with our recent managers continues. (Just five managers between 1902 and 1989 – 18 since.) But why? Some sections of our fan base are as ready as ever to point the finger at the owners.
There's no doubt Sullivan and Gold hold the ultimate responsibility for hiring and firing but when the job's up for grabs there's no shortage of 'experts' ready to offer advice. Who they want to fill the vacancy, what they insist is needed, which direction they demand we go in.
But do we appreciate what is actually attainable for us in this day and age? When we demand the club reach for the stars – do we do it with our own heads in the clouds?
Let's look back at our last four managerial appointments. Take Avram Grant as a starting point. He was a complete disaster – lasted just 11 months – and in that time managed to get us relegated. The cry "get rid" was answered.
We demanded a swift return to the Premier League. We weren't very much bothered how – just get it done. Enter Sam Allardyce who did what was asked at the first attempt. No-one seemed too bothered then about his style being a million miles from the West Ham Way.
A creditable 10th place followed the next season, but the natives were already getting restless. We wanted more. We were better than what Sam gave us. We finally fell out of love with big Sam in May 2015  – but were quickly back in love again with a former hero, Slaven Bilic.
With the help of a certain Mr Payet 'Super Slav' was readily seen as the main man. Finishing seventh in the league and the promise of bigger and better to come as we moved into our new home.
It didn't work out that way. We struggled, looked to be spiralling head first to relegation in the 2016-17 season and the knives were out again – old hero or not – now not-so Super Slav was hounded out the door. Enter David Moyes – the team needed shape, structure, organisation and be fit enough to run all day. Moyes provided all of those things and saved the club from the big drop.
Everyone was relieved – but not everyone was grateful. We were dreaming of bigger and better things again.  Think big, we urged the board. Dump Moyes and give us a big name with a big reputation to match our big ambition.
Enter Manuel Pellegrini. Most saw it as a positive move, and when the board eased the purse strings and Pellegrini began to splash the cash, we were rejoicing in a manager looking to create a team built on skill and flair.
The very qualities we see as being etched in our DNA – producing the kind of football some believe we have a right to expect!  But now all is not well again. Pellegrini is under threat.
There's a call for more organisation, more method, more emphasis on fitness and work rate. The cynics might suggest we're looking to go back to where we were under Allardyce and Moyes.
So maybe the question to us fans is, to paraphrase those immortal words of the Spice Girls,  "…what do we want, what do we really, really want…"
Score goals like Liverpool. Battle like Burnley. Play football like Manchester City. Defend like Sheffield United. Not a lot to ask is it???