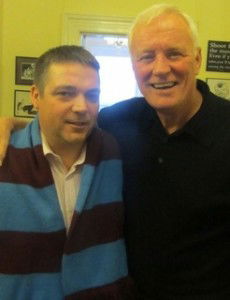 What you see is not always what you get and that's more true of Barry Hearn than most.
And as the Hammers old adversary hands over the reins of Leyton Orient to Italian businessman Francesco Becchetti, ClaretandHugh's associate editor Sean Whetstone spoke with Hearn
He talks of the missed opportunities between himself and the Hammers  and declared: "Tell those West Ham mongrels I don't dislike them."
Barry Hearn believes this is the perfect moment to hand the O's over to Italian business Francisco Becchetti and is convinced the new  90% shareholder will take the club forward .
And he said: "It will like going from Primark to Harrods!"
Hearn retains the ownership of Brisbane Road stadium on which he has a 999 year peppercorn lease from Waltham Forest Council.
He has leased the stadium to Leyton Orient for 20 years with an option for another 20.
And the new owner has made it clear his immediate priority is promotion to the Championship and remaining at Brisbane Road in the short term.
However, Hearn – who takes the honorary title of life president – hasn't fully discounted a future ground share at the Olympic Stadium.
But he made it clear there's no rush revealing though that the only hurdle would be agreeing the financial terms with the new stadium operator.
He said: "I'm confident Francesco would make the decision if or when the time was right.
"The stadium operator will be announced in the next few months by the LLDC with AEG the favourite to be awarded the contract."
Turning to the stormy relationship he has experienced with the Irons over recent years he declared: "I really hope  Becchetti  can meet with Sullivan and Gold to see how the two close neighbours could work together for mutual benefit. I think there was been a lot of missed opportunities during my reign"
When I asked Hearn whether there was even the remotest chance of investing in the Irons he said: "No disrespect to West Ham but I am Leyton Orient fan and I will never buy into another football club for the rest of my life"
His last words were "Tell those West Ham mongrels I don't dislike them!"