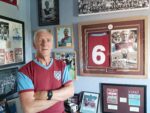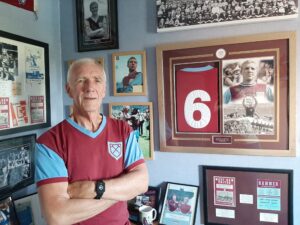 By CandH's top blogger Allen Cummings
I recently blogged defending Declan Rice, our new club captain, against what I felt was unwarranted and unnecessary criticism.
I stand by everything I said. Criticise Declan over his own form if you wish – he would be the first to admit that like a number of others in the team – he has been slow out of the traps so far this season but his integrity as a player and his commitment to the club are beyond reproach.
Captaincy isn't just about what we see on the pitch – it's much more than that. Much of the job goes unseen behind the glare of the fans.
How you handle being the leader, the focus figure in a band of different individuals, the go-to when a problem arises, the mediator if and when differences surface. That's a tough ask of someone who is still relatively young .
That's where I believe Rice could do with some help – and the man for the job is the man who looked after all those things for the past seven years – Mark Noble.
Much has been made over the last two seasons about the excellent team spirit at the club, the togetherness of the players both on the pitch and in the dressing room. The 'all for one and one for all' attitude –  their genuine solidarity and belief in what the manager was doing.
But the personnel in the dressing room is changing – old and familiar faces are disappearing and new ones are arriving. The turnover at the club hasn't been this great for quite some time. It's a big ask for a young player like Declan to get to grips with all that's going on.
David Moyes gave Rice the job because he felt he could handle it. I have no doubt he can – but he needs some help – and he needs it right now.
If Nobes was back in the fold in a role of some description – and we were led to believe that's what would happen – his presence alone would be a morale booster for Declan.
We know how close the two of them were and how much Rice respected his skipper. If he was around again it would be a valuable shoulder to lean on – an experienced old head to lend advice when it was called for, a receptive ear of which to make good use.
Moyes and the board have done what we all asked – added strength and depth to the squad in a mission to build on what we have achieved so far. S signings have arrived – and it could be that the club aren't finished yet.
But the one signing I'd like to see come through the door sooner rather than later is the man we all knew as Mr West Ham – Mark Noble.