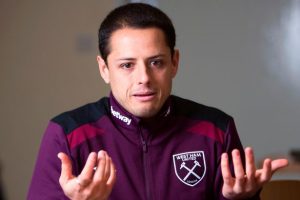 Javier Hernandez has told Daily Mirror man, Darren Lewis, that he asked to leave West Ham in the January transfer window.
The Mexican striker told Lewis "Yes, it was the case that I wanted to go, not because I don't like West Ham, but because I need to have minutes on the pitch."
"The World Cup is just around the corner and I want to play. But you can see that, even though my agent says I want to go, I have been doing everything I can in a West Ham shirt to help the team."
"Against Bournemouth I scored a goal, I tried to play pretty well in the Cup [going the full 90 minutes in their loss at Wigan last weekend] and, in the last game, against Crystal Palace, I tried to do my best.
"I am a very ­professional guy and I want to do that.
"Words can come and go. Your acts are going to speak for themselves. Now that the window is closed I am here and trying to achieve the main goals for the club, which is to be safe from relegation. Then, in the summer, we will see."