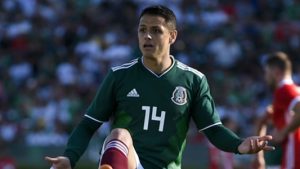 Hammer Javier Hernandez and his Mexican team mates were left frustrated when they drew 0-0 with Wales in an International Friendly in Los Angeles in a warm up to the World Cup.
Despite having nearly 70% possession and having 22 shots on goal Mexico could not find a way through the Welsh defense. The Welsh captain Williams was forced off after challenging Hernandez near the halfway line after 17 minutes.
He over-extended his knee as he went for the ball, but he left the field in some pain with what appeared to be a rib injury.
A crowd close to the Pasadena Rose Bowl's 90,000-capacity watched the game in California.
"It's going to be very good to see Ryan again,'' Hernandez said before the game "Ryan is in a new role now and to be manager of his country is great. But the most important thing is we are preparing well, we know we are going to the World Cup and Wales aren't. But that doesn't mean we are not taking them seriously, we will be very respectful and we want to improve compared to our other previous matches.
"It's going to be a very nice moment in Los Angeles where we have a lot of Mexicans to support us."
Hernandez in World Cup Fixtures
Sunday, June 17 (4pm): Germany v Mexico BBC
Saturday, June 23 (4pm): Korea Rep v Mexico ITV
Wednesday, June 27 (3pm): Mexico v Sweden BBC