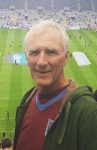 By CandH's Allen Cummings  back from a well earned break
The guessing game over what will be David Moyes line-up of choice for tomorrow's game is already under way.
Chances are there won't be too many shocks although Lanzini in for Mario is a must for me. There will, of course, be the usual call for Javier Hernandez to start the game.
But if history is anything to go by, the omens for Chicharito to play from the off don't look good. Based on his previous experience of games against Manchester City, it's fair to say Little Pea hasn't enjoyed the best of times. His appearances have been severely limited and his goals, for such a prolific scorer, have been non-existent.
During his time with Manchester United, Hernandez faced City on 11 occasions. Unfortunately for him he started on the bench for all of those.
He only got onto the pitch on five out of those 11 occasions, and unsurprisingly in the time that he did join the action, he failed to score a single goal against the blue half of Manchester.
Not exactly an encouraging omen for the little Mexican. Chances are Chicharito will once again be watching the action for a while at least.
So if we find ourselves in a position where we're looking for a saviour, we might have to look elsewhere this time.
Either that or the little man will need to break a hoodoo that has plagued him for a while.