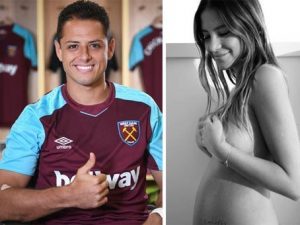 Hammer Javier Hernandez's girlfriend has revealed a large baby bump in a revealing photo shared on social media.
Australian model Sarah Kohan posted a tasteful topless photo to her 1.3 million Instagram followers to share the exciting news.
Sydney-born Kohan, a law graduate as well as a model revealed last month that they are expecting a baby and they plan to have a big family together.
Hernandez said in an interview he wanted to have "three kids" while Kohan added "maybe four". The couple got together last summer after the World Cup when the Mexican forward had his hair dyed blonde."I didn't know who he was when I met him but I was very attracted to the very blonde hair," said Sarah.Hernandez split with his long-term girlfriend Andrea Duro just before the world cup last year telling his Instagram followers  "Chicharito" confirms that the intense courtship that began with Andrea Duro a year ago has come to an end."