West Ham's clash with Watford this weekend is the first of 12 finals for the Hammers, according to Javier Hernandez.
The striker has scored in two of his last three outings, and is set to start against the Hornets, who beat Chelsea 4-1 last time out.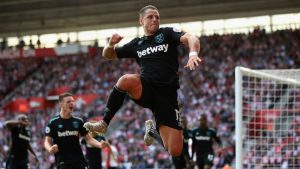 Watford sit just three points further ahead of us in 11th spot and Chicharito is well aware of the importance of the encounter.
He said: "Things are good, they are positive, as in the last three games [including the Emirates FA Cup fourth-round tie at Wigan Athletic] I have played the full 90 minutes.
Speaking to the club website he added: "Obviously that's the personal view because obviously for the group, things have not gone as well as we wanted them to be, as we want to be higher in the table.
"Watford is almost like a final because we are both playing against relegation, so we are going to see who is going to win. Of course, we want to do everything we can, we've had a full week to prepare and hopefully we'll be in the right mood and feeling confident we can beat them.
"Watford changed their manager and did a really good match against Chelsea, but in the Premier League you see a lot of this stuff. We beat Chelsea as well and Huddersfield and Stoke, but then we lost against Brighton and had some draws and this is the Premier League, the most competitive league in the world.
"We need to listen to the manager and do what he wants to get the three points. That's the main goal. Every week and every game is a final for us.
"Everybody has the opportunity to save themselves. Swansea are improving a lot, while West Bromwich is right now at the bottom when they were higher some weeks or months before, so the only thing I can say about the Premier League is that it's the most competitive in the world.
"The difference between everybody from tenth place to the last one is about five points so, as I said, we know every match is going to be a final for us."