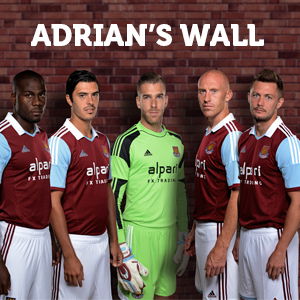 Goalkeeping hero Adrian has emerged from behind the long shadow of Jussi Jaaskalainen to surely put himself in the front line as Hammer of the Year.
His amazing performances have been the cornerstone of the revival which started at Chelsea in that incredible 0-0 draw  and has seen him keep three further clean sheets.
To say he has become a fans' favourite would be rather like saying: "There's been a fair bit of rain recently " – the man has been extraordinary.
And speaking modestly to the official site he said: "It's only my job! It's my job to stop everything.
"Four in a row is really, really difficult in the Premier League and I am really happy. We have to keep going in this direction.
"As a goalkeeper, when you have confidence, confidence in the manager and in the other players, you are happy on the pitch.
"Sometimes I have to help my teammates and other times, not too much, but against Norwich I made three or four saves to help the team.
"It's really, really amazing. The clean sheets are important for the team and it's even more important for me, because I'm the goalkeeper."
Thanks to www.whufc.com for permission to use the image
Follow on twitter @hughsouthon