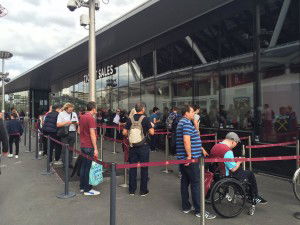 West Ham's first away game of the season has sold out to season ticket holders with 14 priority points or more earlier this week with a ballot for the remaining 10% carried out in a ballot yesterday. The sell-out has raised the same criticism again from some supporters who have 13 points or less who just missed out in the season ticket sale only to face a ballot with fans who have no points.
It is difficult to find a perfect away ticket allocation solution which is fair to all and discourages abuse of the system. This season West Ham have changed their terms and conditions for away tickets and have threatened to carry out on the spot ID checks at away games to stamp out the illegal resale or transfer of away tickets amongst fans.
Ultimately the club needs to come up with a new scheme to allow the return away tickets fort sold out games for resale to others in the same way ticket exchange system works.
Although the 10% ballot gets the most criticism from those who have amassed priority points many other categories of supporters currently get priority for away tickets in front of them.
Over 800 Bond Holders get first priority with up 300 using their bonds for the big away games, next comes the 700 away season ticket holders, players and their families are guaranteed around 60 tickets for each away game and West Ham staff get a chance to buy around 30 tickets.  Next comes Club London corporate members who get 200 tickets for allocations of 3,000 or more and between 125 and 150 for lower allocation away games.
What is left is sold to season ticket holders with priority points before the 10% ballot is held.
Maybe it is time for a complete overhaul of the away ticket system.