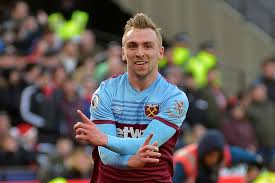 Jarrod Bowen made his England debut and showed his typical Hammers form and congratulations  from everybody over here.
It most certainly won't be his last appearance in a Three Lions shirt after showing England fans at large what he is all about.
Bowen had an early shot blocked after combining nicely with Harry Kane and later saw a volley saved after being found by Harry Maguire's ball over the top.
As is the case in claret and blue the guy was here there and everywhere causing all sorts of problems but sadly ultimately found himself on the losing side against the Hungarians.
It was a great start to an international career which has predicted by many – particularly David Moyes – over the last few months.
Git another Hamer into the England team and we all know what's loikely to happen – we might win something at long last.
One former England star Michael Owen –  was particularly impressed  and speaking on Channel  said: " I think he can be proud of his England debut, I really do.
"He didn't score but he did virtually everything else. He was the one likeliest to score, let's say."
Owen added: "He played quite close to Harry Kane and he was trying to make those runs and he was coming inside a lot of the time.
"He makes things happen and I thought he had energy, didn't look nervous at all and was a constant thorn in the side.
"It was just frustrating that he couldn't turn one of those half-chances into a goal."