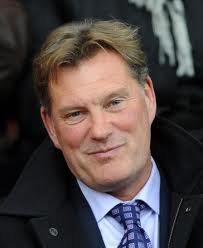 Andy Carroll would be in Brazil were Glenn Hoddle in charge of England.
Former England manager Glenn Hoddle reckons Roy Hodgson has made an error by naming Rickie Lambert in his World Cup squad ahead of Andy Carroll.
Tipped a while back as a possible new manager for the Hammers, Hoddle has used one of his many media outlets to tell Roy Hodgson he has boobed on not including the Geordie.
"Andy Carroll would have been in my England squad – he would have scared the life out of any defence," Hoddle told williamhill.com.
"He would have terrorised the Italians coming off the bench because they simply wouldn't know how to handle him.
"Rickie Lambert was chosen ahead of Carroll, who is on standby, but he didn't impress me, the way he led the line in Roy Hodgson's shadow team against Ecuador.
"This World Cup more than any other, managers such as Roy Hodgson will want impact players – potential match-winners coming off the bench.
"I am not being critical of Roy's selection. I am merely stating an opinion. He may prove me wrong and I hope that he does.
"As an England manager myself I know everyone wants to pick the England team, select the squad, everyone has an opinion and, the majority of the time, it's a different one from the actual England manager.
"Roy is entitled to go with what he sees and that includes form inside the camp, which we don't see, so his opinion is the one that counts the most and his decisions should be respected the most."