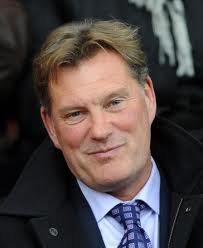 Glenn Hoddle's name was today again being mentioned regularly in all Hammers managerial dispatches.
With every passing hour it seemsSam Allardyce may be fighting a rearguard action to hold on to his job at next week's board meeting are fading.
And in conversations with separate sources Hoddle's name was immediately been put forward to ClaretandHugh without any prompting.
As we reported earlier, Malky Mackay may be slipping out of the picture with Norwich City apparently becoming a more likely destination.
And with no compensation required to get Hoddle into Upton Park, he may look an attractive proposition given the pay off the club would have to make to Sam Allardyce. Hoddle's reputation for playing 'pure football' is another encouragement.
In a separate and highly interesting interview reported earlier today, Allardyce said he had spoken to David Sullivan by phone when rumours on his job started circulating yesterday.
He said that nothing had been said that suggested he was in danger but it seems to some that this is a bit of spin.
A source very close to the club said: "Nor did he say that anything had been said to suggest it was safe – only that he would be attending the board meeting next week."
Allardyce was reported as saying: "People in the game have to write speculation about what's happening at certain clubs because they have to sell newspapers.
"Whether it's right or wrong, only time will tell. Speculation is a part of the game.
"Whether speculation becomes a reality, at this moment in time, we don't know. I will find out next week if it is."
And that is a long way from being told his job is safe – meanwhile the Hoddle bandwagon appears to be on the move .
The former England manager was last involved in club management at Wolves but has now been out of the game for eight years.