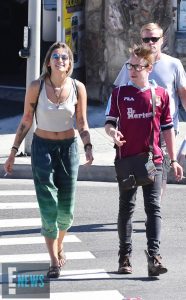 Home Alone actor Macaulay Culkin was pictured with his god daughter Paris Jackson in a retro Dr Martens West Ham shirt while getting matching tattoos.
Calkin became a Hammer while performing a run of shows at the Vaudeville Theatre in London when he became close friends with co-star Aidan Watts, who took him to  West Ham matches at the Boleyn Ground as often as possible.

Watts later said: "I taught him all the West Ham songs, including one that ridicules the ref. He managed to pick that one up pretty quickly."
During the play's final London performance Culkin learned the  Hammers had lost in a FA cup tie. At the curtain, "We were all crying," joked Watts, "not because the show had finished but because West Ham was out of the cup."
The big question is what name beginning with K has Culkin got printed on the back of his West Ham shirt.  Kitson?  Kanoute? Keller? Kevin? or the King of Pop? Answers on a postcard, please.