Winston Reid will be hoping and praying his long term injuries are finally behind him as he heads into  China for The Asia Trophy games with Man City, Wolves and Newcastle involved.
The central defender has spent over two years in the treatment room over the past six seasons and his last lay off totalled 484 days.
Now however, after a seriously long haul, he is back and played his first football in a substitute appearance against Altach last week.
Manuel Pellegrini will give the New Zealander a full pre-season and with a contract which doesn't run out until 2023 the Kiwi will be hoping he can make an impact on the first team again despite facing fierce competition from Issa Diop and Fabian Balbuena .
Angelo Ogbonna too performed admirably when called into action last season and it all leaves the Hammers in a strong defensive position should Reid sustain form and fitness.
He said – speaking to the official site @https://www.whufc.com/news/articles/2019/july/14-july/winston-reid-i-never-lost-faith-i-would-come-back   -: " It's been a long time – 14 months – since I was out on the pitch in a game, and I feel pretty good don't have any pain or anything, which is was obviously the main concern.
"When you've been out for a long time, as it takes time for your body to get back into rhythm, I guess, and get used to doing football movements.
"There is only so much gym work and running and drills you can do. You have to go out and train every day and take it slow."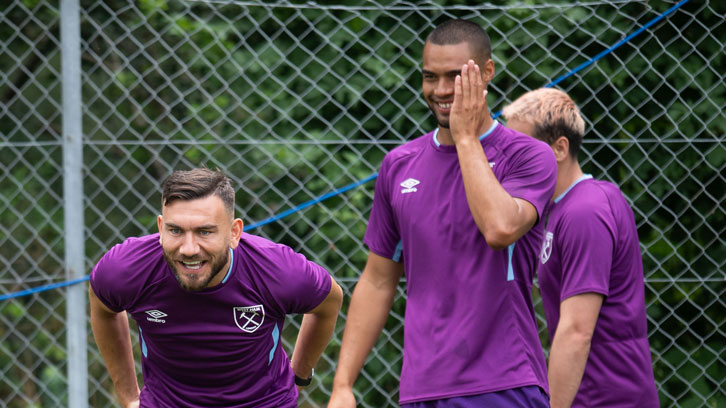 "I never lost faith that I would come back, but it was a long and, at times, difficult rehab. When you're doing rehab, you're doing longer hours than when you are fit, with long sessions in the gym and big blocks of work, treatment, other movements, and you need to take breaks.
"Don't get me wrong, it's tough not being able to play football and being out for a long time and all, but it was an injury I couldn't do anything about and there are people in far worse situations than I was.
"You're given a time frame and you work towards it. Obviously, you get periods where you need to literally not come in for three or four days because your body can only do so much work in the gym before it needs a breather.
"The club were really good with me, especially the physios and the staff. They gave me everything I needed to get back in the best possible situation."