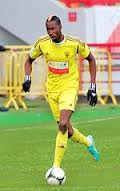 EXCLUSIVE
West Ham look to be pinning their hopes  of landing a second striker on tomorrow's work permit hearing for Lacina Traore.
The news comes after Claret and Hugh learned exclusively a few minutes ago that Southampton have now made it clear striker Rickie Lambert is not for sale.
The Hammers had believed that a £6 million deal could be pushed through should they miss out elsewhere but Saints have notified the club's negotiaters they will be keeping the England striker..
That comes on top of the news that Ishak Befodil's move from Inter-Milan is almost certainly off due to difficulties from he club that part-owns him, Parma.
However, the return of Andy Carroll to action and the current form of Carlton Cole – who opened the scoring for the Irons against Cardiff City – has taken the heat out of things a LITTLE.
A highly placed source told us exclusively: "We are really hoping to get Traore sorted but it's very much  fifty fifty.
"We are going in on the exceptional talent argument but it's a very hard one to prove sometimes. Fingers crossed is all we can say.
"I can confirm the Lambert deal is off after we were told he was now unavailable by Southampton and he Befodil thing is now very unlikely.
"It's not all bad news though because Andy came though his 20 odd minutes well and contributed to mark Noble's goal whilst Carlton is really getting up to speed."