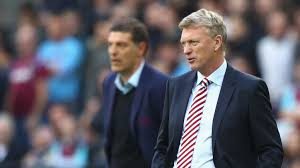 David Moyes looks a busted flush – a one club manager who has failed to hack it anywhere outside of the blue side of Liverpool.
It wasn't until I started looking at his managerial history closely in order to bring a piece to the site that I realised just how badly his career has gone downhill.
It's a disastrous story and also involves some unpleasant remarks to a female journo at Sunderland which have been conveniently forgotten.
I believe this appointment, if that's what's going to happen, is rushed and wrong and that the board could have given themselves more time with the promotion of Terry Westley to take the pressure off themselves whilst they took more time to look at all options.
As I've written before, the mistake was made at the end of last season when Slaven Blic should have been told: "Thanks, mate but that's enough."
Some keep reminding themselves and everyone else on the forums that he's only coming because he's "available." May I remind them it's rather difficult to appoint someone who is not available.
Somebody even suggested Julian Dicks – let's not even go there
Westley was available and very much the man in form within the club. A trick may have been missed in the absence of other candidates.
I pray it works but the truth is I'm hoping for the best whilst fearing the worst.