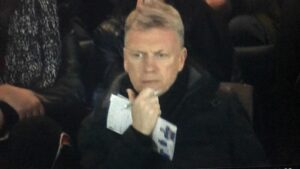 West Ham result over Norwich City appeared to move the Hammers closer to safety after four great goals from Michail Antonio.
That was before results for Watford, Aston Villa and Bournemouth were known.
The Hornets started the trend with a 2-1 win over Newcastle to move them to same points as West Ham separated only by six-goal difference. They are full confidence after two wins in a row before they take on West Ham this Friday followed by final games against Man City and Arsenal so will see the Hammers game as the biggest chance of  Premier League safety.
Next came the Villians who beat Crystal Palace 2-0 thanks to VAR ruling out an early Eagles goal and Palace being on holiday and on their sunbeds already.
Villa moves up to thirty points and needs two wins but there is concern that Everton has little for play and on their sunbeds too for which could leave the Villians targeting the West Ham game as their other win. Their other game is against Arsenal who is still playing for a Europa place despite the FA Cup semi-final three days before their Villa game.
The biggest shock of the weekend came from Bournemouth who hasn't won since February with a 4-1 win over Leicester City. The Cherries have 31 points, just three away from West Ham and Watford with needing two wins from fixtures against Man City, Everton and Southampton. The latter two being the more realistic for South coast side.
West Ham needs to win on Friday to put this to bed or the relegation fight could go down to the final game against Aston Villa.
It is likely to be a nervous week for West Ham hoping that Man City trash Bournemouth on Wednesday followed by Everton doing us a favour on Thursday.