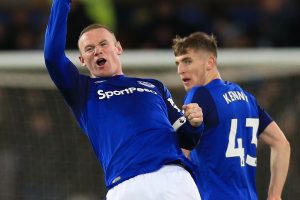 Everton 4 Irons 0
West Ham tonight is a club which has seen its heart and soul ripped out!
It is impossible to describe the depths to which this squad sunk this evening. An absolutely appalling first half was followed by an improved 20 minutes after the break before Wayne Rooney completed a hat-trick with a wonder goal from inside his own half and Ashley Williams added a fourth.
The Hammers were two down at the interval after failing to manage a single shot on goal and producing a display which was worse than anything we have seen.
Nobody wants to accuse players of not caring but that is exactly what it looked like in that first half as a very average Everton team passed the ball around them whilst we lost possession, passed to the opposition and looked like a team that had barely been introduced to each other.
There's a deep cancer inside West Ham United right now and unless a very quick remedy is found there is only one destination for this club – the Championship.
Make no mistake we are in big big trouble and the very thought of Manchester City on Sunday is enough to make us feel horribly sick.
If a pretty awful Everton can do that what the hell is going to happen at the Etihad…it really doesn't beat thinking about.
On top of everything else Winston Reid hobbled off holding his hamstring which means  that in all probability we will see 18 year old Declan Rice partnering Angelo Ogbonna against the most potent team in the land.
Andy Carroll missed out tonight with a knee injury but is likely to be available for Sunday although he is bang out of form and unlikely to make a great difference.
The situation is bad – very bad indeed and the owners need to be extremely worried both at where this club is looking very likely to end up at the end of the season and the crowd reaction in the meantime.
And come January they will need to be digging very deep indeed into their cash reserves to sort out some very important signings at central defence, in midfield and up front.
To buy the players the club needs to sort out this ghastly situation could cost as much as £50m – £60m but if they want to avoid the drop they are simply going to have to find it.
Nothing else will do!