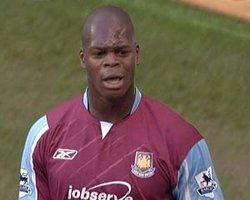 Marlon Harewood's four-year spell at West Ham was filled with unforgettable goals and iconic, history-making moments.
Joining the Irons in November 2003, Harewood would become the spearhead of the West Ham attack through the mid-2000s, netting 56 goals in 170 appearances.
"I would say the four years I was at West Ham were the best years of my career," Harewood reflected on WHUFC.com. "It was truly special and that's why I'm honoured to be an ambassador for the Club now. I couldn't think of anything better to do. 
"It's a privilege to be a part of this Club. It was nice to be looked at in that way, as a young but prolific striker in the First Division," Harewood reminisced. "I spent my time at Nottingham Forest, going through the Academy, and then playing in the first team. 
"When I was playing at that time, the manager Paul Hart had said to me that he wanted me to form a partnership with David Johnson and for us to do well in that division. We scored 50 goals between us, so that partnership was really good for us and the side. 
"We had a young, vibrant team that did very well. Playing with David at that time was a real help to me. It was a learning curve and I developed so much because of playing alongside him in that Nottingham Forest team."
He continued. "I had been at Forest for six or seven years and I was at a time in my career where I wanted to see what I could do to better myself.
"If I remember correctly, Nottingham Forest offered me the chance to stay with a new contract, but I was coming to the end of my deal in the next summer and I was at the time where I wanted to have a change and a new challenge."
"As a football fan throughout my entire life and career, you couldn't not know about West Ham, the history and the players at the Club. At that time, you're talking about the likes of Jermain Defoe, Michael Carrick, Joe Cole, Paolo Di Canio – these incredible players who, from the outside looking in, were top class footballers that anyone would want to play alongside."