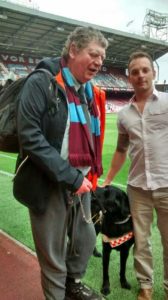 In the second of summer features on West Ham and Accessibility; Blind Hammer highlights improvements for Guide Dog Users.
Next season my Guide Dog Nyle will join the excitement when I don my Claret and Blue scarf. He will wag his tail as he eagerly anticipates another trip to the London Stadium.
This was not always the case.
Once upon a time, this same action produced anxiety and sadness. Putting on a West Ham scarf meant I was leaving.
At the Boleyn Ground Nyle could not attend. Nyle is a big dog, needed to guide an equally big 6ft 4inch owner. My knees were jammed hard up against the seat in front of me. There was no space.
As I left the house my anxious Guide Dog slumped into a depression until I returned.
This separation anxiety for a Guide Dog is rarely understood. There is a deep, intense bond. Nyle is normally integrated into all aspects of my life. He takes me out every day, to Hospital, my Doctor, the local shops, cafes Pubs and so on. Nyle believes that it is his job to accompany me and look after me at all times.
Thankfully Access has now improved massively.
I am now allocated an area which not only provides a seat for me and my sighted human guide but plenty of room for Nyle to lie down.
Nyle now loves taking me to West Ham. His tail wags as he happily weaves me through the crowd.
Nyle is happy when I am happy. This shows most obviously in a goal celebration. He grabs his blanket in his mouth and leaps up to join the happiness. He will also join in a congratulatory cuddle.
As I have commented elsewhere, this joint celebration is all fine but falters when West Ham have a goal disallowed. Nyle will gaze across the pitch, blanket in mouth, confusedly wondering why the happiness has stopped. It is hard to explain the offside rule to a Guide Dog!
COYI
David Griffith