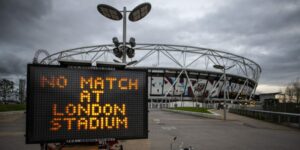 Premier League clubs unanimously agreed today to consult their players regarding a combination of conditional reductions and deferrals amounting to 30 per cent of their total annual remuneration. The League will be in regular contact with the PFA and the union will join a meeting which will be held on Saturday between the League, players and club representatives.
Claret and Hugh understand that the proposal would see a 30% reduction of the annual wages for all players in the top flight saving clubs up to £870m from their £2.9 billion annual bill.
However, if the current Premier League season was completed in full in front of normal capacity crowds then the reduction would only act as a deferment with the 30% refunded to the players on completion of the season.
If the games were played behind closed doors then only a percentage of thirty per cent wage cuts would be returned to the players.
In West Ham's case, the annual wage bill was £136m last year so a thirty per cent reduction would save the Hammers £40.8m should the season be cancelled.
The Premier League could be forced to forgo £762million in TV money if the season is not finished which would cost each club £38.1m if split evenly.