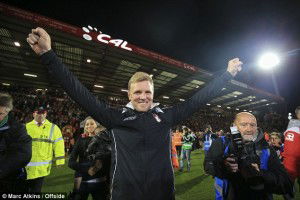 Eddie Howe's brilliant Bournemouth are on the edge of the Premier League after thrilling their own fans and the neutrals with a scintillating display of football against Bolton.
The televised match showed just why the Hammers board have installed the 37 year old among their targets when they change the manager in the summer.
The thirty-seven year old is now the hottest managerial prospect around and a Hammers top source has made it clear to ClaretandHugh that he is very much in their minds.
He said: "We have two lists of candidates – and he is top of List Two. It may just be too early but he is among the runners for certain."
When we asked whether there was the remotest chance of the guy leaving Bournemouth at this magical moment in their history we were met with  silence other than a tentative: "Wait and see!"
But that his team beat Bolton with an on-the-floor brand of football we are screaming out for escaped nobody and our forums were inundated with congratulations whilst pointing that out very loudly.
What was equally impressive was that – unlike ourselves on important occasions this season – the team, under Howe's guidance, rose to their biggest moment in superb fashion with a thumping 3-0 win.
For the Hammers purists who would love to see Howe installed NOW, the big worry is that neither he or will be ready to move this summer.
And should he be in say a year's time, the big boys may well be circling!