CandH blogger Allen Cummings reckons he knows the player that has made the difference in our recent revival declaring: "He's always had claret and blue coursing through his veins."
Saturdays certainly don't get much better than the last one. Our superb away victory was everything we could have asked for – and more.
Our new defensive solidarity has been receiving most attention recently but on Saturday it was the Arnie and Manu double act that  grabbed the headlines.
However, I believe the real catalyst for our upturn in recent form could be the man who started the ball rolling on Saturday with a goal of opportunism and great aplomb, captain Mark Noble.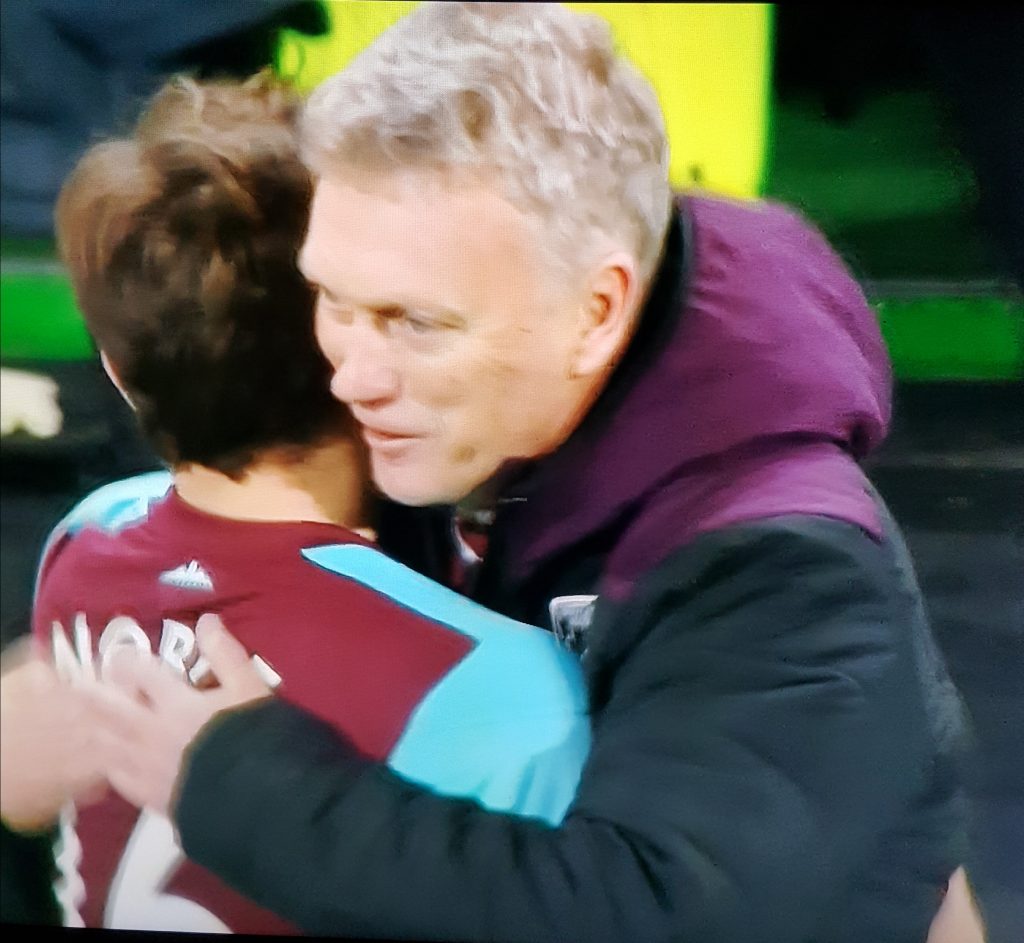 The hug between Moyes and Noble captured on screen at the end said it all for me. The relationship between the two is genuine. The cause is shared. The determination to succeed is obvious.
Fitting perhaps that on Saturday the two of them also shared special, personal recognition. Moyes joining that elite band of manages (Ferguson, Wenger and Redknapp) who have recorded 200 Premier League victories, while Noble reached the milestone of scoring his 50th career goal.
Off the field the newly-formed partnership between Moyes and Stuart Pearce was welcomed by the majority of supporters  but the partnership between Moyes and his captain is proving equally as vital.
Those of us who have watched Nobes throughout his career were appalled by the disgraceful abuse he was receiving from certain sections of 'fans', particularly on social media, earlier in the season. Not just criticism of his performances and suggestions his legs had gone. But personal abuse, too. It was disgusting.
Nobes was clearly being asked to play in a certain way by Slaven Bilic. It wasn't working and the player was coming under merciless criticism because of it. Under Moyes Noble is playing differently. He is still being asked to win the ball, as he's always done, but now he's using it quicker and in a more direct way.
The team are being fashioned accordingly. The slow, slow build-up of the Bilic era has gone. This Moyes' team is being crafted to attack on the break, and Noble is benefiting hugely because of that.
Every good manager knows he needs a leader on the pitch – a motivator, a player in his mould and mindset, someone who has genuinely bought into his philosophy and is determined to see it through.
Moyes has found that man in Noble. The skipper has always had claret and blue blood coursing through his veins. He hurts when we hurt, which is why he must have been bitterly wounded by the treatment he was getting.
Now he's back, playing with a smile on his face, and helping in a huge way to put the smiles back on our faces, too.