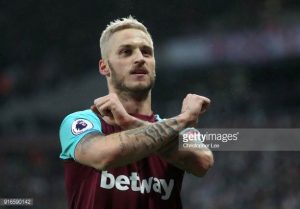 ClaretandHugh blogger Allen Cummings has touched on the sub plot which will be played out between his former boss Mark Hughes and himself on Saturday afternoon when Southampton come calling.
Arnie suffered some merciless barracking and abuse from the locals when he went back to the Potteries with the Irons last December when Hughes was in charge.
He defiantly faced his former fans and gave them a massive crossed Hammers sign before having to suffer some more serious abuse from Welshman Hughes.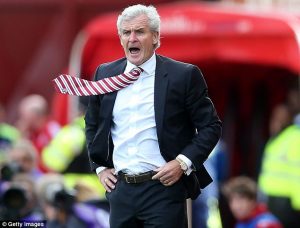 The manager's precise words in describing the Austrian international and record Hammers signing after David Moyrs subbed him near the end were were: (He's) a "f***ing ungrateful f***er"
That should be more than enough to wind up Arnie who is not exactly the type of character to take such abuse lying down but ClaretandHugh has a suggestion to make to Moyes ahead of the game.
It may be a very good idea to paste these words of the Saints boss up on the Hammers dressing room wall in large letters – that might be as good a pre-match talk as it gets.