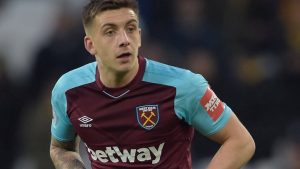 Jordan Hugill is turning out to be pretty 'picky' in deciding where he intends to spend the next phase of his footballing life.
The £10 million Hammers flop – brought in as David Moyes' one and only signing – has turned down a move to Wigan because he wants a £2 million pay off from the Hammers given the wage cut he would have to take.
Now, reportedly, he is interesting both West Brom and Leeds Unted but remains hesitant of moving on from the London Stadium.
We understand that although the Hammers have agreed a fee with a second club – which they are not naming at this stage – Hugill doesn't fancy it and remains very much a Hammer.
This, however, looks like one of those deals which will be done closer to deadline day as the striker waits to see his  full range of options.
However, one of those will not be a pay-off given he has made just three brief appearances for us in 2017/18 and managed just seven goals from 41 appearances at Middlesbrough on loan last season.