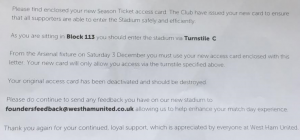 Hundreds of West Ham season ticket holders had their London Stadium access cards deactivated after been sent new replacement cards.
Those in the West stand lower block 113 and West stand upper block 214 were written to late last week by new head of ticketing Nicola Keye to say their current card had been deactivated and requesting they use a new access card sent with the letter.
The letter says "Please find enclosed your new Season Ticket Access card. The Club have issued your new card ensure all supporters are able to enter the Stadium safety and efficiently" As you are sitting in Block 113 you should enter the stadium via Turnstile C.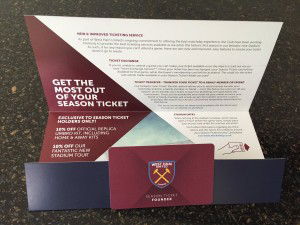 From the Arsenal fixture on Saturday 3 December you must use your new access card enclosed with this letter. Your new card will allow you access via the turnstile specified above.
Your original access card has been deactivated and should be destroyed." 
Although no particular reason was given for the re-issue of the access cards, ClaretandHugh have been told that all cards are paired with turnstile software under the transit system. Previously access cards for 113 & 214 were paired with turnstiles A, B and C but this has now been reduced to turnstile C.
If you sit in block 113 or 214 and have not received a new access card you should contact the ticket office as soon as possible as you might not be able to gain access on Saturday. New cards have Issue 2 under the Client reference section on the card.