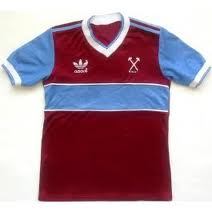 West Ham  will consult supporters on possible changes to Hammers badge in the near future.
They want feedback on whether it is time for a change to coincide with our move to the Olympic Stadium in 2017.
Members of the West Ham Supporters Advisory board were shown nine possible designs last Tuesday evening  and asked for their reaction by last Friday before a wider consultation takes place which could start as early as next week.
Despite  non disclosure agreements ,the information has been widely leaked on the Internet with the Chairman's son Jack Sullivan admitting 'London could be added to the club badge IF supporters vote in favour of it. NOTHING will change for the coming season.'
In addition to the word London being one option, another  is to remove the castle from the badge leaving the crossed Hammers. In the eighties West Ham released an Adidas shirt without the castle just featuring a pair of white crossed hammers which was worn by Billy Bonds among others.
The badge was last redesigned and updated by the London design agency Springett Associates in 1997.
The current badge has a wider yellow castle with fewer window" along with the peaked roofs being removed the tops of the towers than previous badges. The designer also altered the shape of the hammer heads and other small changes in order to give a more substantial feel to the iconography.
West Ham took the extraordinary step of releasing a statement on Thursday to end speculation of a name change to 'West Ham London'. They said "It is categorically not looking to change the club name, which will always remain as West Ham United."
The club has promised that if the majority of supporters do not want a change to the badge they will honour that feedback and leave it as it is.