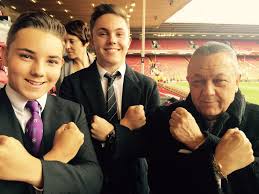 Over the weekend Graeme Souness stuck the boot into Jack Sullivan claiming his comments on club business on Twitter was "unacceptable."
The Sky pundit told the Sunday Times: "Look at the West Ham situation, where you have Jack Sullivan, son of the owner David Sullivan, on social media criticising the manager's selections, substitutions and signings. All of that is unacceptable."
Personally, I think the comments are mistimed and unfair as Jack has put his days of releasing transfer news and other questionable comments on twitter long behind him.
Since leaving school Jack has carried out work experience in almost every West Ham department within the football club and has kept his head down and out of trouble.
He has done a lot of growing up in the past year for which he has been rewarded with the unpaid job of managing director of West Ham Ladies to get the experience of running a football team.
Even with the unkind comments from Souness over the weekend Jack has remained quiet and has not reacted to the insult. I have met Jack a number of times and he has always come very knowledgeable about football and very polite, respectful and business like in person. I have no doubt he is being groomed as a future chairman of our club and he will succeed his father one day.