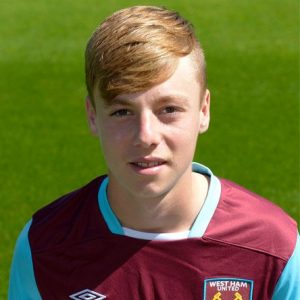 By Jack Lebeau
Follow on Twitter @JackLeabeau66
West Ham U23 miraculously came from 2-0 down at half-time to beat Spurs 3-2 at Hotspur Way on a very rainy afternoon.
We started the better of the two teams, with Spurs rarely getting out of their own half. This was supported by us having a good couple of chances through Martinez but neither could be finished. It's been a strange start to the season for Martinez. Last season he was deadly in front of goal but this year he has been brilliant at everything except the final fiish.
Spurs came into the half with about 20minutes before the whistle, and they quickly made it 1-0 with a deflection off off Pask.. The rest of the first-half was fairly dull but right before half-time Spurs' Edwards took a blatant dive in the penalty area yet still won a penalty which he stepped up and converted for 2-0.
From the first half, Dan Kemp and Alex Pike impressed the most with the former running the show and several times slipping Martinez through on goal. Joe Powell (a late replacement for Diangana in the starting XI) looked to have struggled playing in a slightly deeper role than usual whilst Akinola and  Samuelsen (who went down a few times to be fair) were also off their usual games for the first 45 minutes.
It was a quick turn-around after half-time though with West Ham U23 overturning the score to 3-2 within 18minutes of the restart. The first was a Dan Kemp tap-in from a beautiful Neufville cross, the second was an incredible curled shot by the impressive Nathan Holland & the comeback was completed with a Josh Pask volley after Akinola had knocked the ball down for him.
Spurs had the better of the chances for the rest of the second half though and looked to have equalised when Alex Pike cleared the ball off the line late on. As a typical Spurs side does, they continuously put on the pressure but ultimately bottled it!
In terms of the second half, Dan Kemp once again was quality and was my Man of the Match. Holland was a close second because he was also brilliant in the second half with many defence-splitting runs going forward.
Alex Pike dropped off a bit second half but he commanded the back-line incredibly well still, and looks more like captaincy material to me than Makasi.
Pask & Neufville both improved in the second half and were very crucial to the defence being solid during an onslaught of Spurs attacks towards the end of the game. Trott also had a part to play in that making one or two expert saves to deny Spurs.
One final note that I have to mention is that for the half hour that he played, Noha Sylvestre was incredibly solid in midfield, rarely misplacing a pass and getting himself out of some tricky situations when being challenged by two Spurs players at the same time. It's a surprise as to why he didn't start the game over Powell since it is more of his natural position anyway.
RATINGS:
Trott – 7/10
Didn't have much to do at all first half, first goal deflected & sent wrong way on penalty but kept us in it at times towards the end.
Pike – 6/10
Started well, one of our better players to begin with, not as good as game went on, couple of solid slide tackles, led back-line well
Pask – 7/10
Good couple of blocks & tackles, just unfortunate one deflected off of him for 1-0. Conceded penalty but shouldn't have been given. Smashed home the winner & helped keep us in it towards the end mainly with Trott & Neufville.
Akinola – 6/10
Less stuck in than Pask and let Spurs through a couple of times down his and Neufville's left hand side. Improved second half and  assisted the winner though.
Neufville – 7/10
First half – Not as much came down his side but still struggled especially going forward. Changed that second half with a beautiful assist to Dan Kemp to score and played a massive part in keeping the score 3-2 towards the end.
Makasi – 6/10
A fairly quiet day for his standards, didn't get forward enough and did nothing spectacular. Performed  job in midfield though.
Powell – 4/10
Not vocal enough for me and looked to have really struggled when he was on. Sylvestre was far better when he replaced Powell.
Kemp – 8/10
Best player first half. Ran he show for West Ham and slipped Martinez through a couple of times. Constantly looking for the ball and providing support for team-mates. Started the comeback and definitely my MOTM.
Samuelsen – 5/10
Not the best of performances today but did get clamped a couple of times in the first half & went off with a knock at half-time.
Holland – 8/10
Not the best in the first-half but had little service down his side. Properly came into the game in the second half, scored the equaliser & opened up their defence.
Martinez – 7/10
Played well off the ball & outside the box, would have been rated higher but missed a good couple of chances.
Subs:
Sylvestre – 8/10
Incredible when he came on, rarely misplaced a pass & solid in midfield.
Diangana & Hector-Ingram – 6/10
Not much to note on these two. Fairly quiet performances when came on.