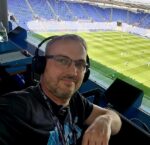 By Gonzo
When West Ham signed Danny Ings during the January transfer window I was far from sold on the idea.
I didn't need convincing about his goal-scoring record or his qualities in general, and I was less concerned than most regarding his injury record. Whilst Ings had spent more than his fair share of time at Liverpool and Burnley on the physio's table, he'd remained relatively fit for the last three years.
My concerns were actually based more on playing style and David Moyes's ability to incorporate those qualities into West Ham's ridged playing style. I'd always viewed Ings as a goal-poacher and that's something that Moyes has struggled with.
In many respects Michail Antonio is the perfect front-man for the West Ham manager's system. He's strong, fast, shields the ball well and is happy to run the wings and create space for others. Ings is nothing like this, in fact he's more like Chicharito who Moyes struggled to use at Manchester United and The Hammers.
But having witnessed Ings score two poachers goals and hit the post, I'm happy to say that I appear to have got it wrong. If Moyes continues to provide support for our new £15m striker I'm confident he'll prove an excellent signing.