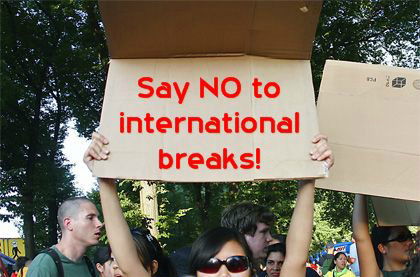 The dreaded international break is upon us and boredom reigns.
International football has fallen down the public interest  barometer over recent years with the  Premier League now of absolute  importance in most supporters' minds.
There is, of course, a Fifa regulation in place on the issue but bad regulations are bad regulations regardless and the question really is whether there be a different format introduced which keeps club football alive.
Two breaks within three months of the season starting is surely excessive and ClaretandHugh readers have been putting various ideas forward for a way around the problem ( to most fans anyway).
Nobody would object to a break ever four or five months but certainly not the two we have had within a month which disrupts fan interest and squad training.
Some of the ideas suggested by our readers include a lifting of the Fifa regulation which would see clubs introduce other squad players with the leagues continuing.
Yes, we can hear the howls of anguish now from the bigger clubs with more international calls,who would claim this puts them at a bigger disadvantage.
So what else?
One fans suggested a mini tournament over the break on a regional basis in order to keep the interest going.
Others remain convinced that just as in cricket, the internationals should affect nothing with one follower, John Tyler, writing: "County Cricket matches are played whilst Test matches are played and the Counties do not seem to mind.
If the International squads numbers were to be less than they are now then it could work.  All Premier Clubs have to announce a first team squad before the season starts so, in effect, any one of those named players are able to be picked for a club game.
The only criteria for postponing a game should be if more than , say, seven players are picked for international duty from any one Club.
The same goes for the Championship teams as I have noticed that if any of their players are picked they postpone their games even if only on player is picked, which I find ridiculous."
And another Russell Burke added: "Firstly, although it is said that two weeks are required it's only one weekend and secondly if Club games continue regardless that would benefit either teams with big squads( ie the richest teams ) or squads containing with barely no internationals in.
I, for one do NOT agree with benefiting the so-called big six. Don't they have enough advantage?