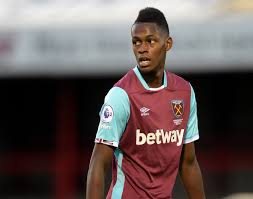 Edmilson Fernandes is ready to remain at Fiorentina if he gets the chance but the Serie A outfit still has to make up their mind about the Switzerland midfielder.
The player made a decent impression on the team during his loan spell making 37 appearances and scoring a couple of goals along the way after manager Manuel Pellegrini allowed him to go out on loan.
CandH understands that the Hammers have an agreement in place which will allow Fiorentina to buy him at €8 million but there could be another development before then.
As we have reported elsewhere Pellegrini wants to take a look at him in pre-season before making any final decision to let him join the club.
He is in the same position with Josh Cullen who has revealed that the Hammers want him back for pre-season before considering whether to let him join last season's loan club Charlton or let him move elsewhere.
Meanwhile, Fernandes' agent, Franco Moretti, talking to Viola News, said his player is happy in Italy declaring: The boy is very happy with his experience in Fiorentina, he is very happy to be in Italy.
At the end of the season we will meet with the owners and the coach and we will talk about the boy's future, trying to take the best decision for everyone.
With the new coach Montella there was immediately a good relationship. The boy is very happy."