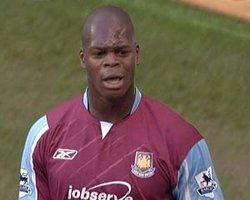 Legend!
It's probably the most over-used word in football and should be one reserved for the absolute great such as Billy Bonds.
Marlon Harwood was introduced as a "club legend" at half time on Saturday and it got me thinking about who really are the guys who deserve such top billing!
There can be no argument that Bobby Moore, Sir Trevor Brooking, Bonzo, Sir Geoff Hurst and Martin Peters qualify.
It's a bit tricker deciding  whether Carlos Tevez, Scott Parker or Frank Lampard Senior can claim such status – ot should be afforded it.
Paolo Di Canio would probably be considered as a club legend by most but Vic Watson, West Ham's top all-time goal scorer is largely forgotten and most likely would not be considered.
Whatever the debate, the word club legend has been overused in recent times. No personal affront to Marlon Harewood but I regard him a cult hero alongside Carlton Cole and others.
Here are my great eight in any list of Irons legends: Bobby Moore, Sir Trevor Brooking, Billy Bonds, Sir Geoff Hurst, Martin Peters, Mark Noble, Tony Cottee and Paolo Di Canio.
Feel free to add to the list below in the comments section below.