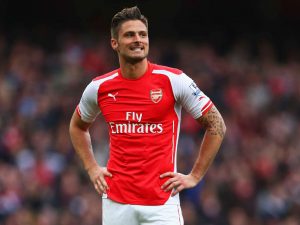 The quest to sign Oliver Giroud from Arsenal appears to be in trouble with the Hammers learning the striker genuinely wants to stay in North London.
We have learned this morning that despite the Gunners landing their primary striker target of Alexandra Lacazette for a record fee of £46.5m from Lyon yesterday, the Giroud deal is no closer for the irons.
It had been hoped that the incoming striker would free up Giroud but the player has now indicated to his agents and the Gunners he wants to stay at Arsenal and fight for his place.
The Hammers are growing impatient and don't believe they can wait for a possible change his mind later in the summer anbd as a result are moving on to alternative striker targets.
It appears to be a re-run of the Carlos Bacca saga last summer where we were waiting for a phone call that never came. The board appear to have learned their lesson from that situation and want to be in more in control this summer.
A senior club source told ClaretandHugh "Giroud, who we were very hopeful of getting, looks like staying at Arsenal or making no decision till mid August and we can't wait that long"