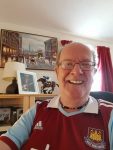 By Hugh Southon
Wolves 2 Irons 0
No comparison between the two sides… Wolves sharp, regularly finding their men, blinding pace at times, getting forward quickly and with a real finishing edge.
West Ham, meanwhile, showing all their old frailties, passing sloppily, labouring their way forward, surrendering possession and never l0oking like getting back into it once they had gone behind.
After Saturday this was disappointing in the extreme but if I'm honest it came as no surprise as I reckon Wolves are one of the most under-rated teams around.
The biggest problem of course was the absence of Michai Antonio as without him there is little soul in the team and certainly no real threat.
After we had fallen behind in the first half it would be fair to expect some sort of reaction. Instead the Hammers returned to the bad old days and once again the manager – rightly – will come under pressure.
His problem clearly is that given his belief in attacking football he has produced a team which tonight showed no progression at the required pace at all.
On top of that you look at  £45 million striker Haller who has become frighteningly poor and a second striker in Ajeti who offers less and less with every appearance.
Fornals looked better, Rice had a decent game and Anderson was far more involved but this will do nothing to quieten the voices of those who want the manager gone.
However,  whilst I always believed we would lose this one I fully expect us to beat Arsenal next Monday and thus Pellegrini will no doubt get another stay of execution should that be the case.
Worrying days again!