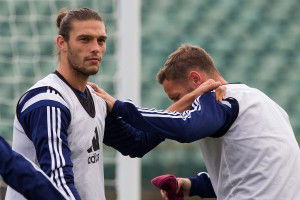 West Ham are now becoming increasingly confident that once Andy Carroll returns to action he will be free of 'historic injury'  problems.
The plantar fascia injury he suffered last season is now completely under control and the extensive surgery on his ankle this season should ensure there are no repeats of a problem that has followed him for three or four years.
Carroll – as reported earlier on Claretandhugh – is doing everything in his power to be ready for the clash against Newcastle towards the end of next month.
But physios are determined the striker is handled with great care as he builds towards rejoining the first team squad and see November as still the most liklely option.
A source explained to ClaretandHugh exclusively: "The ankle injury shouldn't have been left as long as it has been but the surgery has now rebuilt the ankle. In normal circumstances he will now be fine with it.
"The heel injury (plantar fascia) was an unknown issue at the time but all our medics are now entirely familiar with it and know how to handle it.
"There has been no repeat because our medics know exactly how to maintain the situation. We are all as confident of an injury-free future "
He added: We believe that when we get Andy back from his present problem we really we have a new player on our hands who is on a level playing field with everybody else and given normal luck could be injury free for a long time to come.".