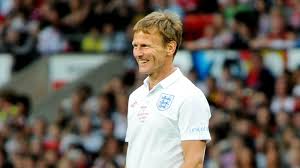 West Ham's sports scientist reckon the Irons forwards are practicing their shooting a bit too much and putting their health at risk as a result.
Sam Allardyce revealed the work attacking coach Teddy Sheringham had been putting in but said: "The only thing is that the sports scientists are saying they are doing too much kicking and getting tight thighs!
He told The Mirror: "But we know when you are a goalscorer, being calm is the ultimate in terms of getting the technique right.
 "If you are a little tense or panicky, then you are more likely to miss. You talk about all those things and do a little bit of practice on ­technique and the goal and hopefully in the long term it will help the players to score more goals.
Of Sheringham he said: "It is more about the ­information and what he has done in his life, how he has found himself in the positions to score goals."
The Upton Park boss added: "We are a team that creates chances, we always have been. And their ­responsibility is to score."
 Diafra Sakho (back) is doubtful for the Saturday game against Southampton and Enner Valencia is unlikely to feature after playing 120 minutes in his first game since the World Cup in the defeat to Sheffield United.