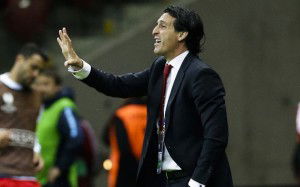 Unai Emery's decision to stay at Seville has seen West Ham's list of  weekend candidates for interview reduced to three.
It has just been confirmed to us that Emery was indeed on the list of four who were to be interviewed for the job after the meeting was set up with his agents.
We reported earlier this evening that the Irons board was preparing to interview four candidates and that Emery could be among them .
However, we made it clear that he  had been creating smokescreens around his movements throughout the week and that could still be the case.
Earlier this evening Sky Sports News were categorically claiming he had turned Seville down before the news broke that the opposite was in fact the case.
We understand the Hammers had offered very big salary figures to his advisers which would have seen Emery  picking up anything from £4m to £8 million a year at Upton Park had he achieved various targets.
However, tonight there is a mixture of relief and disappointment inside the club with one insider explaining that the lack of English was always seen as a problem.
And it was confirmed to us that the list is of candidates for interview over the weekend is now down to three and although Slaven Bilic is among them, the other two names remain a closely guarded secret.